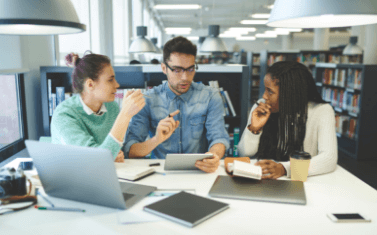 As technology becomes more vital in our everyday lives and also in business, the needs for digital skills are set to 'skyrocket' as experts warn businesses that they must invest in their current workforce or risk falling behind.
Approximately 65% of UK businesses have digital vacancies that they cannot fill, which has prompted experts to urge employers to spend time and money to prioritise in house upskilling of digital skills in order to plug the gap that many are facing.
According to The Confederation of British Industry (CBI) a report they published stated that almost 95% of companies expected that their demand for digital skills would increase with 58% stating that they would need a significant increase in the available digital skills within their business within the next five years, however only 31% stated that they were confident that they would be able to fill the gaps in terms of skills needed.
The reported that was published in partnership with Tata Consultancy Services warned that while technologies were advancing and becoming more apparent in the operation of every business, the skill gap was increasing as businesses were failing to recruit skilled workers and failing to upskill current employees. It stated: "Having the right skills to enable businesses and their employees to adapt to their changing roles and upskill for entirely new kinds of jobs will be crucial to the success of the UK economy."
The chief UK policy director of CBI, Matthew Fell, stated that digital skills were absolutely fundamental to getting employees and people ready for the future of work. "It's essential we tackle the UK's digital skills crunch now to remain internationally competitive." he said. "Firms are sounding the alarm in their struggle for digital skills and the uncertainty that brings. There's a clear need for businesses to diversify their hiring strategies and look for innovative ways to help their people improve their digital skills."
Out of the 250 businesses that were surveyed as part of this report, 31% categorized cyber and IT security, which includes the ability to spot phishing emails, as basic skills that employees need in order to keep their business secure.
The report stated that if businesses had not already done so, then they must set out a long term digital vision of what technology they want to achieve and include within their business and what digital skills they would need in order to achieve this. It is also said that businesses need to make digital skills a 'companywide' issue, and suggested that they collaborate with suppliers, locals SMEs and educational providers. It was also added that businesses could access a whole new wave of digital skills if they put the time and effort into up training those already employed by the business.
Of the companies that were surveyed, 75% stated that they were already investing in digital technologies straining, 30 % were creating and hosting short sources and 33% were partnering/collaborating with other businesses in order to gain experience within the tech industry and increase digital skills.
If you have any queries with regards to the content of this article then please do not hesitate to get into contact with one of the oneHR team members:
Email: contact@onehrsoftware.com
Phone: 0845 509 6854
Tweet: @oneHR_
Back to News