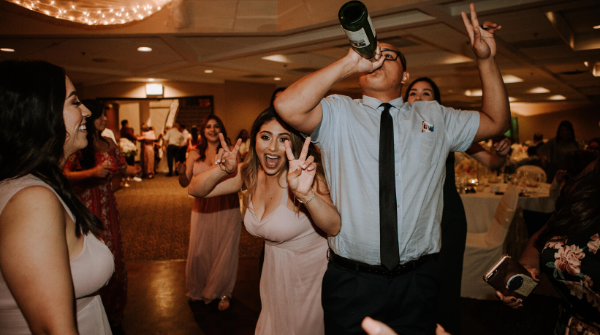 A study shows that 4 in 10 HR professionals believe that alcohol can cause workplace issues.
Despite this various businesses are giving employees the freedom to work from home if they are trying to nurse a hangover.
Claire Crompton the co-founder of 'The Audit Lab', a digital marketing firm, has recently adopted a "hangover day" policy. She told BBC 5 Live that it encourages "honesty" between employees and their managers. The Audit Lab generously offers an "unlimited" amount of hangover days as long as it continues to aid them to complete the required work whilst at home with a hangover.
Crompton's theory behind introducing the 'hangover day' initiative was due to the amount of millennial employees which tend to go on nights out midweek, adding that they can "just work in their PJ's, sat at home on the couch"
Crompton believes that so far the policy has been a success. She states as long as everyone remains "respectful" and completes their required tasks, it will become a part of their workplace policy for the foreseeable future.
Research completed by CIPD shows that 84 per cent of all workplace social events involve alcohol. From this 84 percent, 40 percent of businesses will provide the alcohol free of charge. Half of the managers surveyed believed that having drinks with staff improved morale and increased team bonding. Equally 40 percent of managers think that alcohol consumption at work events can lead to workplace issues.
So what is the correct stance to have on alcohol consumption at work events, and is adopting a "hangover day" the correct procedure for your workplace?
Here is what some industry professionals have to say about the matter;
Victoria Brown, Founder and MD of awarding winning oneHR software, said: "I really do believe it is important to support my people in ensuring they have a good work life balance and through advanced technology we are able to do this now, rather than promote unnecessary presenteeism in an office, when they could work from home and be far more productive. That said, I am not comfortable with the term 'hangover day' and would not want to necessarily promote excessive drinking in the form of a leave type. Personally, I find that creating a culture of open and transparency helps. I measure my people on their outputs not how many hours they sit at their desk. In addition, we have many health and wellbeing initiatives in place to encourage healthy lifestyles'.
Elaine Hindal, CEO of charity Drinkaware, said – "There should be no place for encouraging risky drinking behaviours in the workplace. Not only can employers play a vital role in setting out messages about the risks of drinking, we also believe they should be alert – and be catering – to diverse workforce's. This may include people who don't drink alcohol. In fact, our research tells us more people this year than last year don't drink alcohol.
"We recently published a study into the pressures of drinking and the results should chime with bosses – more than half of people in work say they feel there's too much pressure to drink when socialising with colleagues. We would encourage employers to carefully consider the facts about alcohol along with the health and wellbeing of their employees."
Angela Brumpton a partner at Gunnercooke said – "There a couple of employee relations issues this raises. A policy that gives perks to hungover staff could be criticised for condoning or even encouraging heavy drinking, which is at odds with their duty to safeguard the health and wellbeing of staff. It also perpetuates the stereotype of young people as feckless or irresponsible, which is unfair.
"The argument that it prevents employees from lying to their boss about the reason for absence raises an eyebrow. Lying to your employer about the reason for an absence is dishonest and is a gross misconduct offence. Employees should not ordinarily need to be incentivised to be honest."
It is clear to see that there is a lack of unison when it comes to what the correct stance is on alcohol and hangover days. At oneHR we believe it is important that limitations are clearly set for employees and that a reliable HR system is in place to manage said "hangover day" if needs be.
If you would like more information into the AuditLab hangover rules and policies, please click the following link – https://theauditlab.com/the-rules-of-our-hangover-days/
If you would like further information on how you can digitalis your HR processes. Please contact the oneHR team today.
Email: contact@onehrsoftware.com
Phone: 0845 509 6854
Tweet: @oneHR_
Back to News