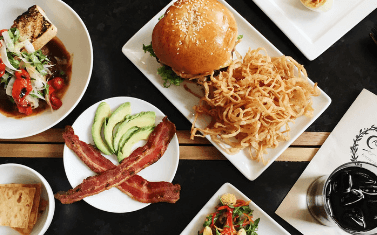 Around the UK there have been several UK food chains that have held a strike, whilst in London there was also a rally. JD Wetherspoon, McDonalds and TGI Fridays along with drivers from UberEats have been protesting the working conditions and amount paid per hour.
The workers that have been on strike from the various companies are wanting to be paid £10 an hour. These movements have been organised by War on Want, Unite and the Food and Allied Workers unions. As well as an increase in the hourly wage to £10 the workers from the various employers want better working conditions and to end the 'precarious' contracts.
UberEats drivers are wanting a pay increase but in different terms to the rest of the employees. The drivers are wanting to change the system to paying them £5 per delivery and an additional £1 per mile for each delivery. The latest strikes from UberEats follow a series of drivers walking out after the company announced that they were reducing its minimum payment per delivery from £4.26 to £3.50. "The fact that UberEats drivers have decided to strike on the same day as us shows that low pay is an issue that affects people across the industry," a spokesman from the Bakers, Food and Allied Workers Union.
Previously JD Wetherspoon had announced that they had increase pay by approximately £7m across all businesses. Additionally, Tim Martin, the Chairman of Wetherspoons, stated that the chain intends on increasing pay in real terms in most years "subject to economic conditions", as they have tried to do in the past. As well Mr Martin said that "bonuses, free shares and other benefits should be taken into account in assessing pay."
In response to the UberEats drivers striking, the business itself stated publicly that they believe their pay scheme is fair as the majority of the couriers use the delivery job as a supplement to other careers that they have. However if this is a drivers primary job, UberEats believe that the possibility of earning a good wage is still available as during mealtime hours people earn an employee's earn an average of £9-10. Additionally, the firm believes that the drivers are using more than one delivery application whilst they are working, giving them more chances to earn money through deliveries.
The issue of going on strike has been ever present in the news recently due to Labour MP Laura Smith calling for a general strike in order to "topple this cruel and callous Tory government". If a strike like this were to occur, it would be the first since 1926.
The strikes are being held to coincide with industrial action over pay by fast food workers in Chile, Colombia, the US, Belgium, Italy, Germany, the Philippines and Japan.
If you have any queries regarding this article then please do not hesitate to contact one of the oneHR team:
T: 0844 800 5932
Twitter: @oneHR_
Please follow and like us:
Back to News