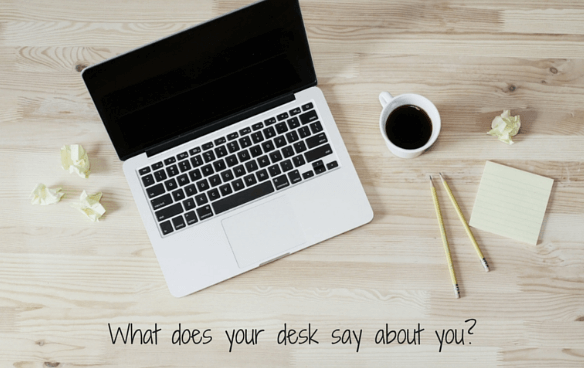 Do you ever wonder what your desk says about you? What is the impression you give off to your colleagues? Could you contribute more to a positive working environment?
"Most people spend 50% of their lives within indoor environments, which greatly influences their mental status, actions, abilities and performance." (Sundstrom, 1994)
We all know that sense of place is evoked by features within a setting. For example, lavender and camomile are both calming and soothing smells, whereas lemons induce a more fresh and brightening reaction. The same can be said for colours affecting mood; red is a warming colour, yet it can cause opposing emotions. Sometimes red relates to love and passion (remember Valentine's Day is next Sunday!) but also anger and danger. Blue initially comes across as a cool colour, it is also said to be a calming one suggesting trust. The five senses affect the way we interpret situations, involuntary and sometimes unnoticed reactions occur.
Environment directly influences mood, and with this in mind it would be logical to make sure that a place of work will bring out the best in employees. "The European Network for Workplace Health Promotion (WHP) has defined [it] as the combined efforts of employers, employees and society to improve the health and well-being of people at work", there are factors that legislation does not specifically cover that can improve working lifestyle. The WHP "places particular emphasis on improving the work organization and working environment" they want to do this through encouraging employees' participation in shaping their working environment. This will have a knock on effect on employee performance– thus the organisation have better qualified staff, and the staff can work to their best potential.
What can you do to help create a positive working environment?
Don't hide behind your computer screens, occasionally talk to one another and practice communicating clearly. There's no point in sending an email to someone who is sat next to you to ask if they fancy a cup of tea!
Try your best not to bring smelly food in to eat at your desk – think about your colleagues. A ripe tuna sandwich on a hot summer afternoon is not kind to anyone, especially if its flying ants season so you can't even open the windows. If you must bring something so pungent, eat it in the kitchen, or find an ant free space outside.
Working in a cluttered environment for some works well, they say it can help them to be more creative. Not everyone is the same though, don't let your scattered papers blow onto your colleagues desk – when you finish try to collate loose work, put pens in the pot and the miscellaneous in some draws.
These three simple steps may seem mundane, but how frustrating is it when people don't tidy up after themselves, speak via their keyboard and leave a mess everywhere they go? Could you be the culprit of the messy desk? Do you have a colleague who simply doesn't understand office etiquette? Follow the link to see the Debretts 'Top Ten Tips" for in the workplace.
The small steps above will promote a more positive atmosphere, make sure your company acknowledges the "combined influence of personal, environmental, organizational, community and societal factors on employee well-being".
What to do next?! – Smarten up your workplace, get your employees on board, leave a tidy desk on a Friday and you've already made Monday morning more bearable!
Back to News