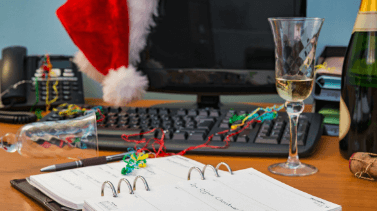 December is typically the time that employers like to show their appreciation of their employees through a Christmas reward. This is likely to be even more so the case after the turbulent year we have all experienced. Many employers and HR departments will be considering the best way in which they can reward their staff. Unfortunately, with many businesses suffering financially, it may not be possible for them to reward them the way they would like or typically would. This year has not only taken its toll on business but on employees themselves. That is why it is arguably more important this year than ever to show appreciation through some form of reward.
Rewards can come in many forms:
A shopping voucher
A Christmas bonus
A hamper
A simple Thank You card
A bottle of wine
Employers who typically splash out on a bonus at Christmas may have to budget rewards this year. The financial uncertainty that 2020 has brought has many employees wondering if they will receive a Christmas reward at all. In a survey from Blackhawk Network, more than half (58%) of employees were not expecting a festive reward. Plus, 11% were unsure whether they would receive a gift or reward from their employers.
Whilst employers may struggle to find the funds to reward their staff this year. They may want to consider low-cost ways of showing their appreciation. It is proven that rewarding staff is key for boosting employee engagement, morale, and productivity. Therefore even if the reward is of no monetary value, employers should consider some form of festive reward. A token gesture could go a long way with your employees. It helps to build work relationships and respect amongst your team. Plus, it could drive the longevity of your staff within your company.
December is an important time to bond with your team and drive productivity. Research has found that businesses that recognise staff see 14% better employee engagement, productivity, and customer service. This is both beneficial to the staff and the business. For this period of the year, it is common to experience staff underperforming or 'winding down' for Christmas. So the boost felt by the Christmas bonus may affect the business positively. Plus, it will help to motivate employees for the New Year ahead.
Many employers usually organise Christmas parties for their staff to celebrate the festive period and as a treat for their hard work throughout the year. This is arguably the event that all employees look forward to. Due to Covid19, the typical festive parties will not be taking place this year. However, many employers are continuing to throw a Christmas party for their staff – virtually! 89% of UK businesses are looking to enjoy the festivities virtually this year with their team. A night can be organised where all staff join a Zoom call and celebrate together. As an extra reward, employers could send some drinks to their employees to enjoy whilst on the call. Booking out some time to show appreciation for your staff and to catch up in an informal setting is really important in building strong work relationships.
Another way you could reward your staff is through extra time off. This could be in the form of:
An extra day of annual leave
Leaving work early one day
Extra time off around the Christmas period
If you are in the position where you can close your operations between Christmas and New Year, you should consider this to offer your staff an extended break. Offering them extra days over the Christmas break for them to relax and spend time with their family would be greatly appreciated by employees. If this is not possible, you could consider a split schedule. Meaning business can continue but employees can still have some extra time off split amongst them.
If you plan to add additional holidays for staff you can manage this easily with oneHR. You are able to change employees' annual leave allowance so that they can clearly see additional holidays given. As well as this, you are able to track who has taken additional leave over the Christmas period. If you are considering a split schedule to allow staff some time off – the holiday calendar function on oneHR is perfect for planning this. It provides a clear view of employees' leave so that you can avoid clashes of leave.
Even if you can't reward your staff the normal way you would this Christmas, the important thing is that you do it in some way.
If you have any further questions or queries about the content above or would like to request a demo for oneHR, please don't hesitate to contact the oneHR team today.
Twitter: @oneHR_
Back to News