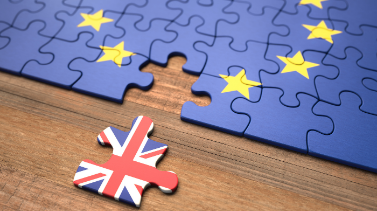 Amongst all of the chaos of Covid19 it is easy to forget about Brexit. But with the deadline looming (1st January 2021) it is vital to be aware of all the factors that HR must prepare for. A poll by EY conducted in September (with UK-based firms accounting for more than a third of participants) revealed that only 13% felt prepared for the end of the transition period. This is a worrying statistic when the deadline for Brexit is less than two months away.
There are a number of things HR needs to be aware of as we get closer to the deadline. Factors that are changing need to be addressed to ensure that you remain compliant to the new rules and regulations.
Checking if you need a visa or work permit for travelling to the EU for work purposes
As well as the actions that all travellers will now have to take, there are additional measures you need to take if you are travelling to the EU for business purposes.
You may need a visa or permit. You should check the specific country's travel advice page for more information on visa/work permits and how to get one. Make sure you leave sufficient time to do this.
Check the entry requirements for the country you are travelling to and if there are any certain documents that they expect you to have. Again – leave plenty of time.
Tell HMRC that you will be working in the EU – you may have to pay social security contributions.
You may need indemnity insurance for your employees.
If you're taking goods temporarily into the EU you should check whether you have the right documentation to do so
Preparation for the new immigration system if your company employs oversea nationals
From January 1st 2021, EU nationals will be treated the same as any other individual from overseas seeking to work in the UK. This is because there will no longer be free movement of EU nationals. If they want to work in the UK they will need to do so via the new immigration system. For the majority of workers, this will involve the new skilled worker route through which individuals must achieve a minimum of 70 points to be allowed a visa that allows them to work in the UK. Points are based around: occupation, skills and ability to speak English. Based on the system, it is unlikely that 'low skilled' workers will be able to work in the UK following the UK's exit from the EU. There is a minimum salary of £25,600 per annum or the 'going rate' for the job – whichever is higher.
What you need to do as an employer
Ensure you have good data on your existing workforce. This is so you know if you need to take any necessary steps moving forward.
Familiarise yourself with the cost and administrative implications of the new immigration system
You must update your immigration policies to include and facilitate these new requirements. This needs to be in both in the recruitment stage and when conducting right to work checks.
EU nationals need to be offered a job from an approved, licensed sponsor in order to work in the UK legally. Therefore, organisations will need to apply for a licence via the government website.
EU nationals that already work (and live) in the UK for an employer can continue to do so. This is provided that they have applied for 'settled status' through the use of the EU settlement scheme. This has been in place since March 2020. Some employers are setting up 'clinics' for their staff so that this can be done in a group with their support and help. Individuals living and working in the UK by 31 December 2020 have until 30 June 2021 to submit their application. As an employer it is important to ensure that you're educating your workers about settled status. It is a fairly straightforward application and decisions are usually made very quickly (within seven days if it is not complicated).
Ensure you can continue to use any personal data you receive from countries in the EU/EEA after Brexit
Personal data is anything that can be used to identify a living person, including: names, delivery details, IP addresses, or HR data such as payroll details. From 1st January 2021 your business may need to have Standard Contractual Clauses (SCCs) in place with EU counterparts in order to legally receive personal data from the EU.
The EU's data adequacy assessment of the UK is underway.  Adequacy decisions are expected to be concluded by the end of the transition period. This would allow the free flow of personal data from the EU/EEA to the UK to continue without any further action by organisations. If the EU do not make a decision before the end of the transition period, employers will need to act if they want to continue to lawfully receive personal data from EU/EEA organisations in the future. It will be required to put in place alternative transfer mechanisms to ensure that data can continue to legally flow from the EU/EEA to the UK. For the majority of businesses, the most relevant of these will be Standard Contractual Clauses (SCCs).
Checking qualifications are still valid by EU regulations after Brexit
If you are providing certain services, i.e. legal services, to clients within the EU it is important that you check that your professional qualifications are still recognised. You should therefore check with your regulator to see if it will still be recognised.
New customs procedures for exports/imports to/from the EU after Brexit 
Businesses in Great Britain will need to complete the following actions to continue exporting and importing to EU countries from 1st January 2021.
Make custom declarations when exporting/importing goods to the EU. You can make these declarations yourself. However, most businesses use a courier, freight forwarder or custom agent to do it for them. This is because they can be quite complicated  to complete. As well as this, you may need to have certain software to be able to submit the declarations.
The rules for exporting/importing some types of goods will change, so you need to check a number of things. What export/import licences or certificates you need. The marking, labelling and marketing standards for food, plant seeds and manufactured goods. The rules for exporting/importing alcohol, tobacco and certain oils.
Make sure you have an EORI number starting with GB.
Find out if you can charge VAT at 0% for exports and check the rate of tax and duty you will need to pay for imports
Check the EU business you are exporting to is ready by 1st January 2021
It is critical that you keep your staff informed on your Brexit plans and the effect that this will have on the business. You should maintain transparency with your employees by informing them of the changes that will take place. Additionally, is it vital that you start preparing now. The pandemic is adding pressure to Brexit-related administrative turnaround times. Actions that businesses need to take are likely to take longer. This is due to the backlogs in applications that Covid19 has caused. The second wave that we are currently experiencing will only push delays further. Therefore, it is imperative that you take action now to ensure it is all done in time.
How can oneHR help you prepare for Brexit
Unlimited Document Storage
It is easy for paperwork to pile up and get lost. oneHR has a centralized document storage solution. This will help to ensure legal compliance and keep all documentation stored in one secure place. All relevant documentation needed for the new regulations of Brexit, such as immigration policies and visa documentation, can be stored safely and easily accessed when needed within this system.
Task Management
The task management function helps to ensure that you never miss a deadline again. oneHR guarantees all managers keep up to date with important tasks that may be forgotten. This function will be especially useful for preparing for and acting on the changes in policies that Brexit will bring. Managers can assign tasks for themselves that need completing before certain deadlines such as applying for a sponsorship licence. Additionally, you can assign employees tasks to ensure that they complete required tasks before deadlines. For example, applying for settled status. This function takes away the headache of remembering deadlines in order to stay compliant with the new laws.
Employee Directory
The employee directory is a secure online database which allows all employee information and records to be stored in one place. It keeps personal information safe, but easily accessible when needed. This function will help to ensure that you have all of the correct data needed on your workforce. In turn this will ensure you are prepared for the new requirements of the immigration system. oneHR also provides you with the ability to customise your employee directory to better fit your business needs. Offering the functionality to add in custom sections and fields. So if you do have workers from outside of the UK, you can have custom sections for the extra information required about them.
Expert HR support
You may require more than software to help you prepare for Brexit. If so, we also offer expert HR support on employment law and legal advice as an added service. Experts from our partners, High Performance Consultancy, are on hand to provide you with advice and support. They understand that keeping up to date and compliant with changes in employment law is essential to managing HR. They can offer their expertise in regard to the changing laws and regulations of Brexit to help protect you and your people.
If you have any further questions or queries about the content above or would like to request a demo for oneHR, please don't hesitate to contact the oneHR team today.
Twitter: @oneHR_
Back to News