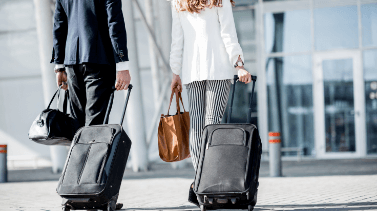 British business travellers are keen to see the return of business travel after the pause brought about by Covid-19. A recent study by SAP Concur, questioned 500 UK business travellers and 100 UK travel managers on this topic.
Findings of the study
99%  are willing to travel for business again in the next 12 months
65% actively want to travel for business again in the next 12 months
Travel managers expect to increase spending on business travel by an average of 33%
With the announcement last week about lockdown easing, further hope has been added to returning to travel for business. From 19th July, those who have been doubled jab will no longer have to quarantine on the return from amber list countries. This is a huge step, as businesses will have further scope as to where they can travel to.
Importance of business travel
Business travel is important for the success of businesses, as well as for the personal success of those who travel for business. It holds other benefits such as:
Positive impact on employee wellbeing
British economy positively impacted as more deals are done
Strengthens business relationships – 70% agree that travelling for work and conducting face to face meetings helps to strengthen business relationships.
What happens if business travel does not resume this year?
Fewer deals will be signed
Businesses may fall behind on competition
Companies at risk of going out of business
Those who travel for business may personally make less money
People may struggle to advance their career
Higher expectations
There are higher expectations of those travelling for business when it resumes. The pandemic has made people more cautious about travelling. Therefore will opt for safer and typically more expensive options. These include:
Ability to choose direct flights (46%) – reducing the number of places they travel to through this.
Selecting premium seating (37%) – less of a risk, more distanced seating.
Booking 4 or 5-star hotels (36%) – expectations of it being cleaner and more sanitised.
Keen to return
Those who travel for business are keen to return for a number of reasons, some reasons not being directly business-related. Due to being unable to travel for work, home life has changed. They are spending more time at home, which may not suit some families. For some, work can be a form of escape.
8% of business travellers want to get back to travel because their partner wants them out of the house
45% said they would look forward to a break away from their household
44% of married respondents said they would be excited to escape the house
Younger workers are the keenest to escape the house at 52%, over 55's was at 38%
Employers responsibility
Employees will have an expectation of their employers to protect their Health and Safety whilst travelling for business. It will be the employers' responsibility to ensure that they consider the safest way for their employees to return to business travel. Risk assessments should be completed and conversations regarding travel should be had with those who are happy to return.
It is also important for companies to prepare logistically for the return of expenses and travel management that comes with going overseas for business. As business travel comes back into focus employers need to ensure that plan and manage these trips effectively.
How can oneHR help?
Custom sections –
Custom Report
You can build custom reports based on the Covid Vaccination data that you collect. You can create reports based on lots of different data, such as:
Vaccinated employees
Dates of vaccination
Dates for vaccination.
This will help you to distinguish which employees can travel and where in regards to vaccinations and quarantine.
oneSAFE
Our Health and Safety specific branch of oneHR. Store important H&S documents such as risk assessments and policies.
If you have any further questions or queries about the content above or would like to request a demo for oneHR, please don't hesitate to contact the oneHR team today.
Twitter: @oneHR_
Back to News