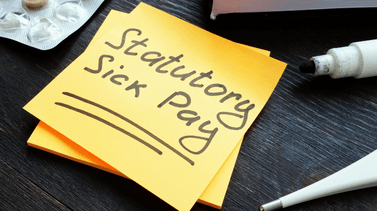 A large number of employees in the UK do not qualify for statutory sick pay, something experts believe will lead to increasing Covid rates
The Impact of Minimal Statutory Sick Pay
The TUC has warned that tougher self-isolation rules and the lack of sick pay may lead to more infection rates over the Christmas period as employees are left with little choice but to attend work whilst ill with the omicron variant.
The new rules, introduced in response to rise of the Omicron variant, require a person who has been in contact with a positive case of the omicron variant to self-isolate for 10 days even if they are vaccinated. This means that the 647,000 workers within the hospitality, retail and the arts industries that do not qualify to receive statutory sick pay are therefore at risk of being left with no way to work and no income over the Christmas period.
Many of the festive workers who are most likely to come in contact with a large number of people over the Christmas period receive no sick pay when self-isolating and could face devastating cuts to their livelihoods. The TUC has calculated that this applied to 238,000 hospitality workers (16% of all hospitality workers) 336,000 retail workers (10% of the workforce) and 73,000 arts and entertainment workers (12%).
The only other sector of the economy that will have a higher proportion of workers that do not qualify to receive statutory sick pay is those employed by households, for example, domestic cleaners, seeing around 32% of the workforce failing to qualify.
How does UK Statutory Sick Pay Compare?
The UK has the least generous statutory sick pay in Europe, worth just £96.35 per week. In addition, statutory sick pay is only available to employees earning £120 per week or more. In the UK, employees are paid less than 9% of a typical week's salary whilst in contrast, the average worker across Europe receives 65% of their salary as pay during a week of sick leave.
This leaves over 10 million workers (around 33%) with sick pay that is too low to meet basic living costs or no sick pay at all.
The government needs to act
The government introduced a temporary scheme to assist people who face hardship if required to self-isolate. However, the TUC research has found that 64% of applications are rejected, as the funding is too low and many workers are not aware of it.
The government has seen calls to extend statutory sick pay protection to every worker by removing the lower earnings limit and increasing statutory sick pay to at least the value of the real living wage (seen as £9.90ph outside of London)
TUC general secretary Frances O'Grady discussed statutory sick pay, saying "Our sick pay system is broken. No one should be left to choose between doing the right thing and putting food on the table. And we all have to risk having our Christmas ruined because our sick pay system doesn't do what's needed to stop the virus spreading"
He continued "Ministers must extend sick pay protection to every worker. And it should worth at least the same as the Living Wage to make sure people can afford to isolate."
If you have any further questions or queries about the content above or would like to request a demo for oneHR, please don't hesitate to contact the oneHR team today.
Twitter: @oneHR_
Back to News