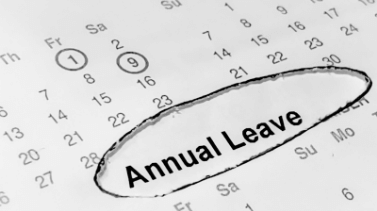 A survey from Finder.com revealed that 2/3 of employees plan to carry over some of their annual leave from the last year. The average leave being carried over this year is 5.1 days.
Many employees last year cancelled their annual leave due to Covid19 getting in the way of their holiday plans. This is unsurprising due to the lockdowns and travel bans that were in place throughout the year. Going into the New Year and with us finding ourselves in lockdown number 3, it is unlikely that as an employer you will be bombarded with holiday requests. This is resulting in many employees still having a significant amount of day's holiday leftover as their annual leave year comes to an end.
Nobody knows when we will be advised that it is safe to travel again. Until then many are likely to hold off on booking holidays, and therefore there will be a drop in employees requesting time off. With January 2021 being the start of a new leave year for many businesses, employers may be inundated with requests from employees regarding their annual leave.  These requests surrounding their remaining annual leave from the previous year and the want to carry it over to the following year. But are they allowed to do this?
Carrying Over Holidays
New regulations now allow for leave to be carried over from those who taking holiday was 'not reasonably practicable' during the pandemic. Up to 4 weeks of leave (20 days) can be carried over to the next 2 years.
However, the challenge in this lies with defining what is 'not reasonably practicable'. There is an expectation of this regulation that the employer and employee will be able to work together and use a common-sense approach to decide whether it is reasonably practicable to take leave or not.
Generally, the 'not reasonably practicable' phrase could apply to workers:
Who have been self-isolating
Have been too sick to take holiday before the end of their leave year
Have been laid off temporarily
That have been/are on furlough
Have been required to continue working i.e. Frontline staff
Have been needed at the company due to an increasing demand due to the Coronavirus
Work for companies who do not have options for temp staff currently
However, these have not been confirmed to be the factors as to why someone can carry their leave over.
Whilst it is an option now to be able to carry annual leave over, employers should make their best efforts to ensure their employees take as much time of their leave as possible.
Can you force workers to take their leave?
If you are unable to carry holidays over, you are able to force workers to use their leave. However, this isn't advised from an employee relations point of view.
You can require an employee to take leave on a fixed date. If you decide to this you must give double the notice as the period of leave that there is to be taken. For example, if you require them to take 1 week off, you must give them notice of 2 weeks.
There are better ways to approach this type of situation though. You should avoid forcing a fixed date onto your employees. Instead, ask your employee to take a certain percentage of their leave by a certain date.
You should acknowledge that you are aware that they may not be able to travel when they take their leave. However, it is important that your employees take leave to avoid being in a position at the end of March where you are inundated with leave requests for the same period.
It is important that employees take leave to have a proper break to ensure they receive the recuperative benefits of taking time off work. Whilst their leave may not be the normal holiday experience they are used to, it is important that you have some time away from work. Explaining this to staff will help them to understand this.
How can oneHR help?
Holiday Manager and Calendar
It gives employees a clear view of their holiday allowance and team calendar to help avoid clashes when requesting leave.
As an employer, this will save you time, confusion, and help you to avoid human-error when managing leave.
Receive email notifications when your staff request leave – this can easily be accepted or declined on the software.
Allows management a clear sight of who has and who has not booked leave, they can then communicate their concerns. This could be to encourage certain employees to take more holiday.
If you decide to allow employees to carry over leave, their leave entitlement can easily be updated for the new period to reflect this
If you have any further questions or queries about the content above or would like to request a demo for oneHR, please don't hesitate to contact the oneHR team today.
Twitter: @oneHR_
Back to News