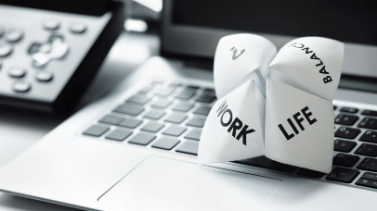 The pandemic brought about increased levels of flexible working. This is a way of working that suits an employee's needs, such as flexible start and finish times or working from home. Employees are likely to expect flexibility in their working week post-pandemic after experiencing the advantages of it.
Professionals aged 25-34 years old are most likely to expect more flexibility in their typical working week in a post-covid world. This is according to research completed by flexible office space experts Workthere, which involved over 1000 UK office workers. It was found that almost nine in ten (87%) of those aged 25-34 years old expect to have some say on a flexible working week moving forwards. This is a contrast to the older generation, with only 60% of those aged 55 or over sharing this view.
The younger generation have clearly adjusted and come to expect more flexibility in their week. They have a higher desire to work less than the national average of 38 hours week, with almost 79% confirming that they already work less than that. The fact that the younger generation have experienced flexible working throughout the pandemic means the desire for this kind of freedom is likely to develop further as the UK continues to recover. As businesses recover, they may re-evaluate their old practices and make the necessary changes to accommodate this trend. This seems to be the case already. A study from CV-Library revealed that almost two thirds (61.4%) of employers plan to offer flexible working to their employees post-pandemic.
Benefits of flexible working
Boosts productivity. Employees are free to work in staggered hours and alternative shift patterns to become more available to customers. Could even work outside of the typical shift patterns.
Improves employee wellbeing. It helps to reduce stress and burnout.
Allows employees to spend more time with family so reduces stress, dissatisfaction and burnout.
Better job satisfaction
Increased feeling of personal control over schedule and work environment.
It is important for employers to understand the reasons that their employees have for wanting flexible working. It is beginning to become an expectation amongst UK workers to have the option of flexible working. The pandemic has allowed them to recognise that there are alternative ways of working a traditional 9-5 office based job. Companies will need to move with the times and consider mixing up their practices in order to retain staff.
Reasons for wanting flexible working
Better work-life balance
Avoiding a lengthy commute
Have leisure or study interests
Caring responsibilities
To look after their mental health
Want to have more time to spend with their family
Flexible working provides benefits not just for the employee, but for the employer too so it may be wise to consider accommodating it within your business. When you are recruiting this could be a factor as to whether someone will apply for the position. The percentage of jobs which include the term 'flexible working' in job descriptions between January and July has risen from 3.4% in 2019 to 4.6% in 2020. Certain industries are more likely to mention flexible working than others: Social Care, Charity, IT, Marketing and Design. Although, it needs to be understood that flexible working isn't an option for all professionals.
Benefits for the employer
Increase of productivity
Diversity of employees
Staff retention – reduced staff turnover
Reduced costs, i.e. real estate savings
Requesting flexible working
Any employee with 26 weeks continuous service can make an application to work flexibly for any reason. Applications should be done in writing and include:
The date
A statement that it is a statutory request
Details of how you want to work flexibly
A proposed start date
An explanation of how you think flexible working might affect the business and how this could be dealt with, i.e. if you're not in on certain days
A statement saying if and when you have made a previous application.
oneHR is perfect for if you are working flexibly. You have 24/7 hour access to the system no matter where you are. Meaning you can work effectively whenever and wherever suits you.
If you have any further questions or queries with regards to the content above or would like to request a demo for oneHR, please don't hesitate to contact the oneHR team today.
Twitter: @oneHR_
Back to News