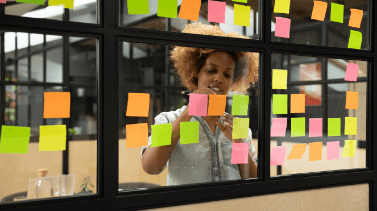 Learning and development has fallen significantly within businesses, with the number of training days taken by staff in 2019 dropping to 99 million from 105 million in 2017. Covid19 has shocked the economy and is likely to have many lasting and significant impacts. One thing that will be affected is the learning and development of their current employees within the business. It has been found that many employers plan to cut budgets for learning and development within their business. This is in a desperate attempt to save the company money. However, businesses will be shooting themselves in the foot if they decide to do this. Talent development is a vital tool for business transformation and growth. Therefore, budget cuts within this area may reflect poor management and leadership. It should not be considered as a cost, which is easily cut when needed.
A survey was conducted with 81,000 employers by the Department of Education before Covid19 started affecting the economy. It found that the proportions of workers considered to be not fully proficient at their roles by their employers rose to 4.5% (equivalent to 1.25 million employees) in 2019. This was the first marked increase since 2011 and has risen by 100,000 employees since 2017. This figure has likely worsened further due to employers cutting training budgets as a response to the pandemic. This should be a worrying fact for employers as this would affect the productivity of a business massively – which will cost the business money. In addition, the proportion of staff undergoing training over the same period dropped to 60% from 62% in 2019. This was marked as the lowest proportion of staff undergoing training since the start of these reports in 2011, clearly highlighting budget cuts in this area.
A response to Covid19
It is clear to see that many employers have decided to cut budgets on learning and development in order to save money for the company. However this is a quick fix to a long-term problem and will only come back to haunt employers in the future. A CIPD employer poll in June found that 22% of firms planned to cut training budgets over the next few months. Only 16% intended to increase these budgets.
Employers need to begin to come to terms with the fact that this situation is the new normal and could be for a long time. Therefore short-term thinking will not help businesses to succeed. Many employers does not realise that by making these cuts and plugging skill gaps within their workforce is more costly than investing in good learning and development. The cost of plugging skill gaps has gone from £2.2 billion in 2017 to a staggering £6.6 billion in 2019!
Harmful to young professionals' careers
Many worry that the loss of face-to-face interaction at work could harm young professional's careers. Whilst they may be offered training online to help them upskill, they miss the opportunity of informal development by being in a shared workspace. A survey by CEMS found almost two thirds (72%) – most of these in their early to mid-twenties – have said that not being able to network with colleagues in the office could impact their long-term progression. Furthermore 66% believed that the tighter training budgets will significantly impact their progression. This is because social collaboration and interaction is a valuable source of innovation, productivity and growth for professionals. Not only could this be detrimental to the individuals career, but to businesses success in the future. As there will be few will the skills necessary to be successful and thrive.
Become innovative
Companies need to accept that face-to-face learning and development may not be possible at this current time. However, they need to seize the opportunity to innovate and create these learning opportunities online. Professionals who have been stuck into online learning and embraced this change will be sought after in a post-pandemic world. It shows that they are able to learn and adapt to changes well.
Technology, customer demand and organisational processes is ever changing. Continuous development is needed in order to keep up and respond to these effectively. The rate of change has increased in recent years, and Covid19 has only accelerated this, as it was required to survive.
Changes to Learning and Development moving forwards
Growth opportunities in high demand
More people are inclined to expand their skill sets to boost employability post-pandemic. Job opportunities in certain sectors have been hit massively by Covid19. Therefore, people may have to look for work within a different sector, which they have never worked in before. Fortunately, employees are likely to have more time on their hands than what they have ever had for a number of reasons. This time can be devoted to learning and development.
Digital Learning
Online learning has seen huge growth this year and is becoming the new norm. Companies have had to adapt in order to maintain learning and development safely. The best way to do this is online. Not only is it the safest but companies have seen other benefits of this way of training, resulting in it becoming the new norm post-pandemic. Benefits of this include flexibility, cost-effective, interactive and allows employees to learn at their own pace.
Employees having more control
Employees are beginning to have more responsibility for themselves during work through the pandemic. The main reasons for this is the increase in working from home and flexible working. Employees have more control over their schedule of their working day. As a result, they feel more motivated and resilient to push themselves further. Because of this, employees are seeking training opportunities to improve their skills and earn qualifications to continue their education and career progression.
It is important that you do not see appraisals and performance management as a burden within your company. It helps to facilitate learning and development within your company. We understand that you may not have the funds to spend on expensive training for your employees at the moment. However, there are cheaper alternatives you could consider. There are many free content available online, as well as free webinars offering training.
Features within oneHR can help with learning and development within your company. The reminder and task management features enable you to see employees progress and performance. This makes appraisals and planning for training much easier. Notifications ensures that you remember to conduct the appraisals and employees are reminded of their objectives to boost motivation to improve their skills.
Our upcoming webinar is focusing on appraisals and in-house development. This is on Wednesday 18th November at 2pm. Please email daniel@onehrsoftware.com to secure a place.
If you have any further questions or queries about the content above or would like to request a demo for oneHR, please don't hesitate to contact the oneHR team today.
Twitter: @oneHR_
Back to News