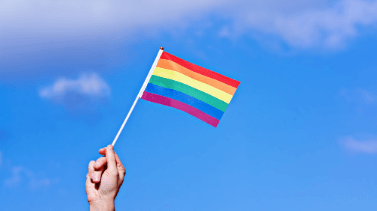 February is LGBT+ History Month which is an annual month-long observation of lesbian, gay, bisexual and transgender history, and the history of the gay rights and civil rights movement. To recognise LGBT+ History month you should take steps to ensure that your company are LGBT+ inclusive and to help tackle the issues that still arise within companies for LGBT+ employees. We have outlined how you can do this in this article.
The CIPD conducted research that found that LGBT+ employees are more likely to experience conflict and harassment at work than their heterosexual and cisgender colleagues. The study of 15,000 workers found that:
2 in 5 (40%) LGB+ employees experienced conflict in the workplace over the last 12 months
Over half (55%) of transgender workers experienced conflict in the workplace over the last 12 months.
This is compared to 29% of heterosexual/cisgender employees who experienced conflict in the workplace. It is important to be aware that LGB+ and transgender employees still experience more conflict in the workplace and implement ways to help.
In addition to these findings by the CIPD, Stonewall – an LGBT+ charity found in a study that 1 in 5 (18%) LGBT+ employees have experienced discrimination at work. And a third of transgender people (33%) have been the target of negative comments and bullying from colleagues. These shocking statistics highlight the importance of HR's role in helping to decrease these statistics and make the workplace feel safe and welcoming for LGBT+ employees.
Impact on Mental Health
LGBT+ employees are more likely to report that work has a negative impact on their health. Being happy at work is a key factor in being happy and successful in life. Facing these negative experiences of discrimination or harassment at work can carry through to their personal life. It can be detrimental to a person's mental health and overall wellbeing.
Hiding their identity
Even though LGBT+ rights are protected by law, many employees still feel uncomfortable revealing their sexuality and/or identity. The study by Stonewall also found that more than a third (35%) of LGBT+ staff have hidden their identity at work for fear of discrimination. In addition, 26% of those who are transgender aren't open with anyone at work about being transgender. Many British graduates go back into the closet when entering work, even when they have been open at university. It is important to create a company culture that allows employees to feel comfortable to reveal their identity if they wish to do so.
Company Culture
HR should aim to create and maintain a company culture that is open, accepting and transparent. By doing so, employees may feel comfortable opening up and revealing their true sexuality and gender identities.
Celebrate LGBT+ History month or get involved in virtual pride events. This can not only help employees to feel valued, but it will help to instil these views into your company culture.
Engage with LGBT+ networks to help HR and senior staff understand the issues that LGBT+ employees face, helping to empathise with them.
Set clear expectations over what is acceptable behaviour at work to help protect LGBT+ employees. Be clear that there is a zero-tolerance approach to all anti LGBT+ discrimination.
In addition to this, they should understand how to report and deal with any conflict that occurs.
Employers need to be committed to providing a safe and inclusive working environment for all of their employees, including LGBT+. The goals regarding LGBT+ should be aimed around
Recruiting inclusively
Demonstrating a commitment internally
Building psychological safety for LGBT+ employees
Enabling your business to become truly inclusive
Check the data
Check your company numbers to see how you rank in terms of LGBT+ inclusivity. In the UK's population, around 6% identify as LGBT+. This should be the benchmark figure for your company to aim for.
It is important to have a diverse set of role models within the company. This will highlight to LGBT+ they can successfully work their way through the company and achieve success without compromising their identity Without these diverse role models in place LGBT+ may be less likely to put themselves forward compared to heterosexual and cisgender applicants.
Closing the gap
The progress that the LGBT+ community has experienced over the last few years has been considerable. One reason for this positive change is due to the fact that most straight people now know someone who identifies as LGBT+. These personal connections and friendships reduce fear and increase understanding. However, this isn't enough and employers should actively look for and create diversity.
Recruit and promote exclusively
When recruiting internally and externally you should be committed to ensuring the process is diverse and inclusive. Ways to do this include:
Ensure that you have the right policies and practices in place to ensure that your longlists are diverse.
Use LGBT+ talent pools to look for candidates
Monitor the makeup of your shortlist
You could consider mandating LGBT+ inclusion in your shortlisting process
Make sure your commitment to diversity and inclusion is a key element of the interview script
After the interview monitor and seek feedback from the candidates on their experience of the process. This will help you to improve moving forwards.
Support during Covid19
Whilst many of us may be working from home, there are challenges that haven't disappeared for LGBT+ employees. In fact, they may be faced with new challenges and for some, problems may have intensified. It is important for their employer to recognise, understand, and manage these issues.
Working from a hostile home
Not everyone has the perfect home life. Nor is everyone open about their true identity when at home. It is especially difficult for some people to be open about their sexuality and gender identity when at home around their family. This is particularly relevant for Asian, black and minority ethnic employees. Where they may be happy to be open and honest with people who they work with, it may not be the case for when they are around their family.
HR needs to be mindful of their employees' differing circumstances. Topics that may have been discussed in the office environment such as relationships and past social events may not be appropriate to discuss over video calls. Staff should be made aware of this.
Online discrimination
Even whilst working from home, LGBT+ can still face discrimination and abuse. With the increased use of private messaging during lockdown it may be harder for HR managers to control. However, it is important to tackle these types of issues if they arise and adopt a zero-tolerance for this kind of behaviour.
Implement anti-discrimination policies and safe-guards around remote working to protect groups such as LGBT+.
Host online inclusivity and diversity training sessions
Wellbeing and Mental Health
During lockdown many employees may be feeling higher levels of stress and pressure. Therefore it is crucial to create a supportive space where all employees feel like they have someone. LGBT+ are more likely to experience poor mental health and the pandemic is likely to have made this worse. There are steps in HR that you can take to help:
Review your mental health policies to check that they meet the needs of LGBT+ employees who may be struggling
Creating an employee network for LGBT+ staff
Signposting LGBT+ inclusive services that can offer additional support if your employees are to need it.
Access to inclusive counsellors and mental health first aiders
Not only is it the right thing to do by ensuring your LGBT+ employees feel welcome, safe and valued within your company but it will help your company too. If your staff feel comfortable they are more likely to thrive, meaning your business will too. Empowered employees bring new ideas and innovation.
oneHR
At oneHR we are proud and happy to say we are LGBT+ inclusive. If you require advice on how to help support LGBT+ employees or how to help your company become more inclusive then please do not hesitate to get in touch.
oneHR can help you to keep valuable data on your employees. Understanding the makeup of your workplace will help you to see if you are inclusive to LGBT+ and whether necessary improvements are required to become more inclusive.
You can also keep company-wide documents that are accessible to all on the oneHR. You can upload policies regarding LGBT+ to the system. This ensures that all your employees have access to these and understand what is acceptable and unacceptable behaviour.
If you have any further questions or queries about the content above or would like to request a demo for oneHR, please don't hesitate to contact the oneHR team today.
Twitter: @oneHR_
Back to News