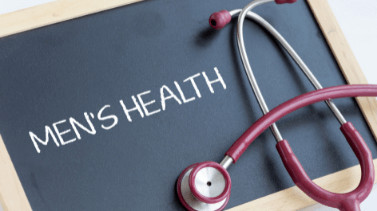 It is Men's Health Week (14th-20th June) this week. According to the HSE, the rate of work-related stress, depression, and anxiety has increased in recent years. Over the past year, new physical and mental challenges have been presented which people have never faced before. Therefore, this year, it is important now more than ever to focus on the health of your employees. Use Men's Health Week to evaluate the measures you have in place to support your staff, especially male staff who may not be as open with their health – both physical and mental. Employers have a responsibility to protect their workers whilst they are at work. The earlier an employer tackles a problem, the less impact that it will have on both the employer and the business.
Men's Health Week
It is a fact that men do not look after their health as much as women do. This is especially so in terms of mental health. Due to this, there is a worrying Gender Health Gap forming.
This week is held to shine a light on Men's Health. The aims of this week are:
Build awareness around health problems affecting men that can be prevented
Support and encourage men to make healthier lifestyle choices
Encourage early detection and treatment of male health difficulties
Worrying facts on the Gender Health Gap
Men have a shorter life expectancy, with 1 in 5 men dying before they turn 65
Men are more likely to die from heart disease, be overweight or obese
They are twice as likely to die of Covid19 than women are
3 of 4 suicides in 2016 were men. In 2018, it was sadly the highest cause of death in men under 45, with the highest rate being between the age of 40-44.
Reluctant to go to their doctors
Men are more reluctant to go to their doctors compared to women. Women tend to go 6 times a year, whereas men only 4 times. This leads to conditions not being identified in males until it is too late. There are a number of reasons why men are more reluctant. They include:
90% don't like to bother their doctor until it is something urgent and serious
They feel as though they are too busy to go
They do not want to hear bad news
Men feel more embarrassed to open up to someone about personal issues
They do not want to have to go to a physical exam
GP Helplines – providing GP Helplines to your staff so that they can speak to a Doctor quickly and easily if they have a problem.
Provides a sense of anonymity
Virtual, so men find it less embarrassing than face to face
Fitted more easily into a traditional workday, meaning they do not have to take time off work to attend
Working more hours
Generally, men work more hours than women. This can be a contributing factor to poor health.
Spend more time in the workplace
Usually take less advantage of flexible working options that are available within the business
Almost twice as likely or work full time compared to women
Burnout
It is unsurprising many are feeling overworked, which is leading to burnout. Those who are most likely to feel burnout the most recently are healthcare workers, executives, leaders, managers, and small business owners. The BBC has recently reported that burnout for Health and Social care staff had reached emergency levels.
Other causes of burnout include:
Job-loss worries
Work from home challenges
Isolation
Many employees, especially males, may deny that they are feeling this way or be reluctant to admit it when asked. Therefore, it is important to be able to spot signs of burnout amongst your employees. This could include:
Those who are reluctant to take their holidays
Feel obliged to work all hours
Displayed changes in their mood or behaviour
If you believe your staff are experiencing burnout, you can:
Encourage them to take a burnout self-test
Model healthy and sustainable ways of working for your staff to follow
Creating a healthy workplace culture
Spotting and addressing the key factors that affect health at work is important. Introducing wellbeing initiatives and having Men's Health under control makes sense so that you can have healthier employees. There are many other benefits for your business. These include:
Engaged employees
Lower levels of sickness absence
Higher levels of performance and productivity
A happier and healthier workforce
Higher resilience
Managing Stress
In order for employees to manage stress, employers need to ensure that they manage their own. Having strategies in place to manage their own stress will help employers keep positive energy within the workplace.
Ways to manage stress:
Create healthy daily habits
Take regular breaks (90 minutes) to refuel and recharge
Use this week to implement initiatives to support the health of male employees, examples include:
Each month introduce an awareness topic around health and wellbeing. Topics may include healthy eating, exercise, etc. For example, as a healthy eating initiative, you could provide fresh fruit for the workplace to encourage employees to eat healthier.
Implement activity-based challenges to bring people together to exercise together or virtually. This could be walking, running, or bike rides.
Keep good communication within your company to share resources and information to your employees easily. This should be done when working in the office, as well as when working from home.
Try to use gender natural language – neither feminine nor masculine. It will help for the resources and support to be inclusive.
Use anonymous surveys or suggestion boxes within your company to ask your employees what they would like to see implemented
Provide company sponsorship in charity sporting events to encourage employees to participate in
It has always been the case that employers have a legal duty to protect their workers from harm at work including with their health. Make it one of your priorities to ensure your employee's health is taken care of.
If you have any further questions or queries about the content above or would like to request a demo for oneHR, please don't hesitate to contact the oneHR team today.
Twitter: @oneHR_
Back to News