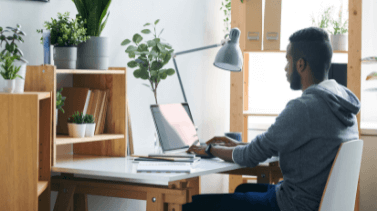 The pandemic brought about remote working for a number of us, many had never worked this way before. However, both employers and employees seem to love this new way of working. So much so that there has been an increase in remote working jobs. Research has shown that the number of jobs advertised with 'remote working' options has tripled during the pandemic.
Unsurprisingly, there was an initial decline of remote working jobs during the peak of the pandemic. This was due to a drop in businesses actively recruiting altogether in a response to coping with the impacts that Covid-19 had brought to them. However, as restrictions began to lift, the demand for remote workers spiked. It was reported that March 2021 had the highest number of clicks for a job advertised with a work-from-home option in the last 12 months.
Advantages of remote working
Enables a better work-life balance for employees
Gain back valuable time which would be usually be spent on the daily commute
Having remote working arrangements ensures that businesses are able to operate even if staff are unable to make it into the office, i.e. bad weather or a pandemic
Improve staff retention rates due to high job satisfaction
Employees are reportedly happier working from home
Increase in productivity of employees at home
Challenges of remote working
Productivity could drop
Career prospects hindered
'Digital introverts' less vocal in virtual meetings
Employees struggling to switch off
With companies adopting a more flexible approach by introducing more remote working roles it is important to know how to be productive in these roles.
Tips to work remotely productively
Taking a break
It is much easier now to stay logged on in the evenings or to log on at the weekends if you are working remotely. As tempting as it is, you should ensure that you are taking breaks away from work. Try to move away from your workspace in the evenings and remove your emails from your phone. This will prevent you from casually checking them outside of working hours.
Step away from your desk during the day. On your lunch make the effort to move from your workspace. Even better, go for a walk outside for fresh air or squeeze in a quick workout.
Stay organised
When you start your day, ensure that you have everything that you need for the day to hand, i.e. equipment, stationery, phone, etc. This way you will not waste time during the day hunting around for them and it will not offer a distraction.
Routine
It is important to get into a routine and stick with it. This means going to bed and waking up at the same time every day. If a typical 9-5 day doesn't work for you, you could consider asking your manager if you are able to work a different set of hours that work better for you.
To ensure you stay productive set tasks and make a schedule for the day. This could be in a physical planner or using your online calendar. This will help you to stay on track and act as a motivator as you are able to see what you have accomplished during the day.
Stay in touch
Keep in contact with your colleagues whilst you are working remotely. Feelings of isolation can damage productivity, but more importantly mental health. You can do this through team meetings or even by just dropping someone a message to see how they are.
How can oneHR help?
oneHR is an HR management system that is accessible no matter where you are. Meaning it is perfect for remote working jobs. Outlined below are some features which are especially useful for remote working.
Task manager –Implemented email reminders, follow-ups, and notifications mean no tasks will be missed when working remotely. Whether it be a manager setting tasks for their team or an employee managing their own day-to-day, this tool will offer great value to your workforce.
Document storage – a secure document storage facility that allows you to stay up to date and legally compliant with your documentation. It is cloud-based therefore there is no need to store documents in the office. It is accessible 24/7, allowing you to work effectively remotely.
If you have any further questions or queries about the content above or would like to request a demo for oneHR, please don't hesitate to contact the oneHR team today.
Twitter: @oneHR_
Back to News