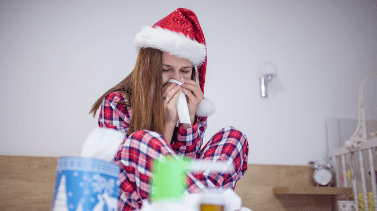 Our HR Consultant, Lauren Long, discusses employee festive absence and offers advice on how to tackle this.
It is without a doubt that 2020 has been turbulent and tough in various ways for each and every one of us. Thankfully, with the arrival of the festive period and the ease of the latest lockdown, we can now hope to look forward to winding down and making up for lost time with friends and family. Although, for employers, it can be a time of worry as the festive period is a common time for businesses to experience high levels of absence.
Given the impact that this pandemic has had on so many businesses, December isn't necessarily a month that affords organisations the chance to take the foot off the pedal; with many finding the need to work doubly hard to recoup the unprecedented losses of this year. This may leave business owners in a difficult predicament as they try to balance the needs of the business with a workforce that will want to spend this month socialising, shopping and ultimately switching off.
It is not uncommon for short-term absence levels to spike over the festive period and whilst we don't want to appear to be HR 'Scrooges', it is important that we continue to manage and address absence issues. The impact of high volume, the unplanned absence is far-reaching as it affects not only the costs and operational efficiency of the business but also the rest of the workforce, as they cover the workload of their absent peers on top of their own work demands. This additional pressure can have consequences for the quality of work. As well as the risk of work-related stress issues and declining engagement levels amongst this workforce.
So, what can we do to effectively manage absence over the festive period?
1. Keep accurate absence records
Recording all instances of absence will provide you with insight into the current absence levels within your business. Having accurate records will enable you to analyse the data and identify absence frequency, duration and Bradford factor scores or triggers, as well as trends such as absence grouped around weekends. You can use this information to address absence directly with individuals and outline expected improvements. This should be kept to up to date and recorded in a secure and confidential way; an online HR software is a great tool for this.
2. Return to work interviews
A strong absence management process will include the use of a return to work interviews, which should be conducted following every episode of absence, irrespective of the duration of that absence. Return to work interviews are important in managing individual absence as they seek to ascertain the reasons for the absence and also provide the employer an opportunity to highlight any concerns such as repeat episodes or patterns. In my experience, simply making employees aware that these have been noticed can prove effective in preventing any further occurrences. Capturing as much information as possible is also essential to determine the best way to pro-actively address absence problems.
3. Tackle the issue
Gathering the information on absence is arguably the easy part. Addressing the issues identified is the most important. Being pro-active will help prevent short-term, frequent absence recurring and prevent long-term absences from continuing for protracted periods. For short-term absences where there is no underlying medical condition, this may best be addressed through the use of the disciplinary procedure with the individual progressing through each stage of the process if the required improvements are not met. For long-term absences or those where underlying health or medical condition is the cause, it may be necessary to refer the individual for an Occupational Health Assessment to determine whether any support or reasonable adjustments could facilitate a return to work.
Finally, we all know that prevention is better than cure so where we can prevent the occurrence of absence, we should. Where possible, you may want to increase the flexibility of working arrangements over the Christmas period, allowing employees to work from home, enabling them to minimise time spent travelling. Additionally, encouraging and supporting employees to take care of their physical and mental health and wellbeing will help prevent the typical causes of absence in winters such as colds and flu.
There are many ways that employers can pro-actively manage absence in an organisation. For further guidance and support with this, you can contact the HPC team today.
How can oneHR help?
oneHR can help you manage absence within your business during the festive period and in the future. The online system provides a clear overview of leave and absence within your business. This allows you to easily spot absence trends. Spotting these trends amongst your staff helps to proactively manage absence and tackle any issues which may be causing absence. Information is kept up to date and secure on the live online system and it can be easily pulled from accurate records if you require it for absence meetings.
Additionally oneHR provides a calculated Bradford Factor score for each individual employee on their profile based on their unplanned absence. This can aid you in making sense of absence rates within your company.
If you have any further questions or queries about the content above or would like to request a demo for oneHR, please don't hesitate to contact the oneHR team today.
Twitter: @oneHR_
Back to News