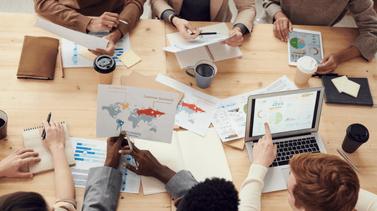 The four-day working week, does the concept lead to more productivity, engagement and a healthier bottom line? The pandemic has seen some businesses rethink again and again about their working patterns, especially when it hasn't influenced productivity levels either way. Scotland has trailed this alongside the Nordic nations, which have seen many results, our Senior HR advisor Dan Williams outlines the pros and cons of a 4-day working week:
Pros of the four-day working week
It's a recruitment tool – Flexible working ranks highly on candidate wish lists. If a business offers flexible hours and working this is making you more attractive to this market of candidates, lifestyle benefits are really sorted after and job hunters want to work for a company that match their values.
Immensely popular with employees – Who doesn't enjoy a three day week when it is the bank holiday coming up? Many people suffer burnout and stress due to the pandemic pressures, having more free time to boost emotional wellbeing is valued by employees due to the value in flexibly working, this free time gives your employees time to recharge, reengage and remain committed to the business.
Improved work-life balance – Wellbeing is always on the radar for good employers, by spending more time with family and friends, or your hobbies and interests. From the employee perspective, company loyalty and teamwork improve, thus staff are less likely to be absent and stress-free.
Data supports this – Microsoft trailed this working pattern and had record amounts of data to show productivity has increased rapidly. Employees who are well-rested are more productive and focused at work. Longer hours does not mean results, think about being output driven rather than presenteeism driven. Read more about the Microsoft trial.
Cons of the four-day working week
Logistically difficult (at first) – A four-day working week is not the type of thing businesses can move to overnight. There needs to be a level of planning, motivation, management and consultation on how this will readapt and impact their personal lives too. As some anomalies may come up that you may have not originally considered, for example, compressed hours = compressed holidays.
Getting the best out of everyone ­– Some members of your team might jump at the chance of working over four days. Others might prefer to still work every weekday as normal or would rather choose to adapt their daily hours to start early and finish early. Even if you decide against a four-day week as an employer, what's clear is that the traditional office hours may be due a rethink. Staff value more flexibility whatever their situation. And giving each employee the right to choose what works best for them is a guaranteed way to get the best out of your team.
It may not suit your industry – Unfortunately, there is no doubt that a four day week will work everywhere, but some sectors require around the clock 24/7, therefore some roles cannot be done in fewer hours. These industries include the likes of hospitality and retail. The expensive alternative would be to hire more staff, which does not make sense operationally and financially.
Harder to manage – The Monday to Friday grind makes it relatively simple to navigate team workflow, but if everyone has a different day off during the week would manpower planning be harder to manage, considering that staff may not come to work or have their non-working day when it includes official and mandatory meetings to attend; it becomes a first come first served issue.
How can oneHR help you?
If you are planning on implementing a four-day working week it is important to have a plan in place. With oneHR, you are given the freedom to effortlessly change the working patterns of your employees, removing the admin headache when switching an entire workforce to this new system.
If you have any further questions or queries about the content above or would like to request a demo for oneHR, please don't hesitate to contact the oneHR team today and create a smooth HR process.
Twitter: @oneHR_
Back to News