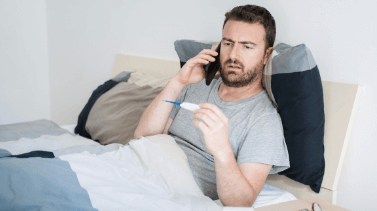 HOW TO MANAGE ABSENCE FOR COVID-19
Employee absence can result in significant costs for businesses, yet research suggests that only a minority of employers actually monitor that cost. More active management of sickness absence could save the UK economy billions each year. Much of these costs are due to lost time, management costs and productivity losses. However, it is not just about managing the costs of absences, it is important now more than ever to be able to manage absences for the wellbeing of your employees.
A survey published by CIPD suggests that the annual cost of sickness absence for UK businesses was estimated at around £550 per employee. With it costing the UK economy a total of £21 million in 2020. A more proactive approach to managing sickness absence could save the UK economy billions of pounds, as well as saving businesses money.
XpertHR have found during their 2019 survey that the median rate of sickness absence has increased to 2.7% of working time, from 2.5% in 2018. It is recorded that on average employees take 6.4 days off a year now due to sickness. Whereas in 2018, it was only 5.6 days.
The rate of sickness absence seems to be influenced by some factors:
Type of sector – Employees working for businesses within the public sector take more time off due to sickness than any other sector, with 7.5 days on average per year. The private sector take an average of 6.4 days, and manufacturing and production 5.7 days.
Size of the business – Larger businesses are more likely to experience higher sickness absence rates than what smaller businesses are. Those with 1000+ employees have a median of 8 days, whereas businesses with only 1-99 employees have a median of 3.8 days.
It will take time for businesses to truly see and understand the impacts of COVID19 on sickness absence rates. Although it is already clear how much HR and employers underestimate the total cost of sickness.
It is important, as we head into the current recession that businesses keep costs under control and understand costs properly. This includes the costs of sickness absence. If employers don't have meaningful and accurate data they are most likely to be unaware of the true costs. The practice of effective and thoughtful management of sickness absence can result in savings for a business. oneHR can assist with this, helping your business to save money and manage absences effectively, providing a platform to track absence trends.
It is important now, more than ever for businesses to have good absence management systems in place. COVID-19 has highlighted the importance and need in the ability to manage to and predict absences. COVID-19 is impacting absences. Therefore those businesses without proper methods for managing, storing, logging and looking at timelines around employee sickness will suffer. It is essential for records to be accurate to ensure that employers know when it is safe for their employees to return to work after sickness.
Managing these absences efficiently is important to help organisation save money. However, it is vital to ensure that absence management is practiced properly. This includes:
Logging staff absences with associated timings and symptoms
Communicating to your team in case they have been in close proximity to that person that has fallen ill
Following specific guidelines for all different scenarios in relation to COVID-19
Knowing your employees in terms of who may be at risk of certain illnesses
To further the final point of knowing your employees, it is important to be well equipped with the knowledge of your employees. This new level of intelligence will become incredibly useful in order to stay one step ahead in these turbulent times. Allowing you to proactively manage the wellbeing of your staff before the problem escalates.
oneHR provides you with a clear overview of leave and absence within your business. Absences will be logged accurately and organised where data cannot be lost. This allows you to spot absence trends at a glance, meaning you can see those who are taking a lot of sickness absences. As an employer this will generate new levels of understanding to be able to act to help, understand or rectify. This could be especially helpful with seeing who may be vulnerable in this current situation. You will be able to forecast trends in their wellbeing and requirements.
oneHR can help to handle the chaotic nature of COVID-19 and the absences that may come with it. As well as this it will help handle general sickness absences within your business. This will help to ensure the wellbeing of your employees and aid in managing costs in relation to sickness absences.
If you have any further questions or queries with regards to the content above, or if you would like support in managing your absences, please don't hesitate to contact the oneHR team today.
Twitter: @oneHR_
Back to News